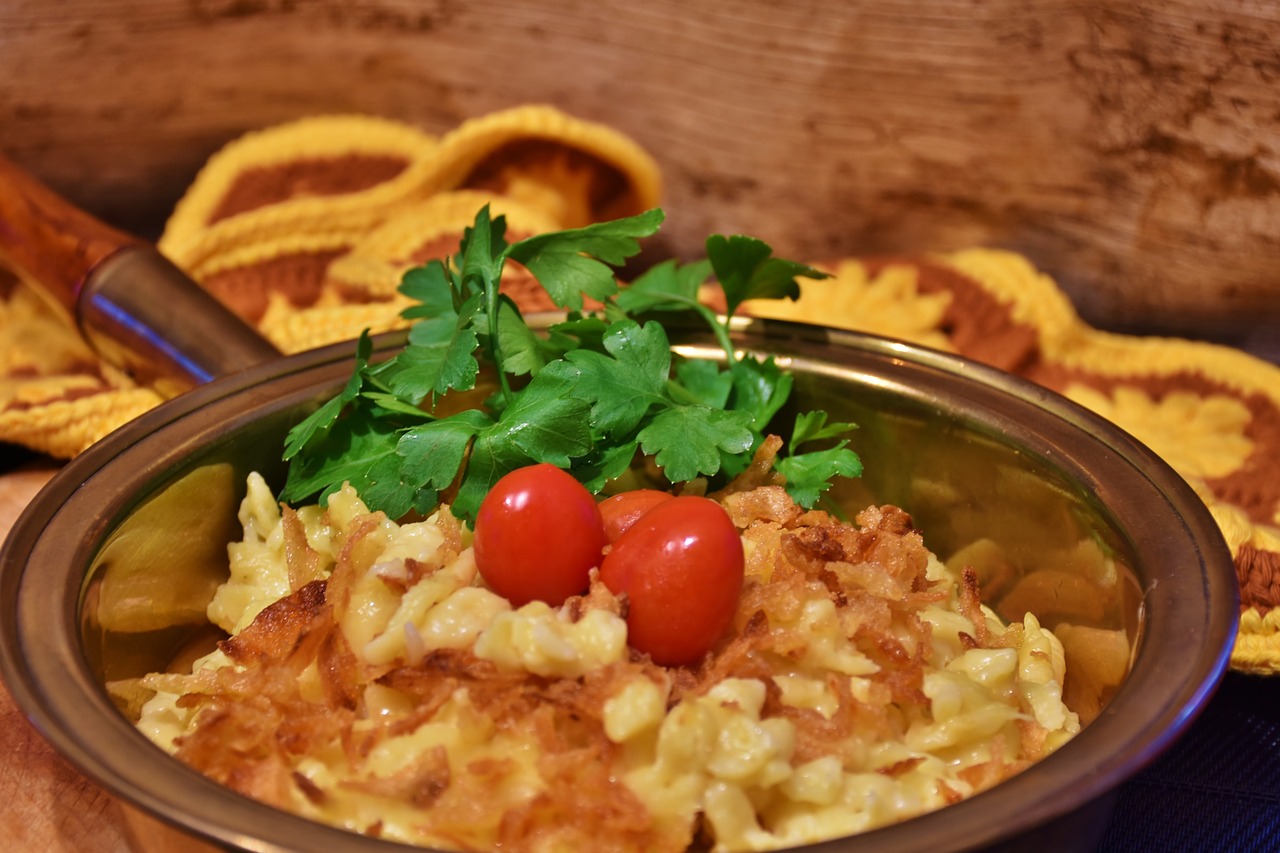 Kasespatzle Recipe
This is carbohydrate heaven – a mix of flour, eggs and semolina that is flicked into boiling water to cook like pasta. In fact the word käsespätzle translates as little cheese sparrows, each piece of pasta a different shape. When cooked it's mixed while still warm through a mountain of grated cheese and a generous amount of fried onion rings cooked in butter. The result is warm and wicked, full of stretchy cheese.
Ingredients
8 eggs
150 ml water
2 tsp salt
pinch of pepper
½ tsp nutmeg
1 tsp oil
450 g flour
50 g semolina
350 g grated cheese (half should be Swiss cheese)
100 g butter
500 g onion, sliced into rings
Instructions
Resting time 30 minutes
Break the eggs into a large mixing bowl. Add water, salt, pepper, nutmeg and oil.
Beating constantly, slowly add the flour and then the semolina until the mixture is evenly mixed and bubbles appear through the dough. If the dough is too dry add more water or egg yolks. If it is too runny, add more flour. Allow to rest for about half an hour.
Bring water to boil in a large pot and add salt. If it is possible put a wooden board in the pot with the boiling water. Otherwise wet a wooden cutting board in the sink.
Pull a lump of dough from the mixture and place it on the damp wooden board. Hold the board above the pot, slightly inclined and with the back of a knife cut off little portions of the dough and throw them straight into the boiling water. The spätzle are ready when they rise to the surface of the water.
Remove them from the water with a slotted spoon to drain, place them in a large baking tray and continue with this procedure until all the dough is cooked.
Mix the two cheeses through the hot spätzle and allow to rest.
Melt the butter in a frying pan and add the onion rings. Fry the rings until they are brown, turning them from time to time.
When the onions are ready take them out of the pan. Pour the remaining butter into the spätzle and mix through. Serve with the brown onion on top.
Cook's notes
We use Australian tablespoons and cups: 1 teaspoon equals 5 ml; 1 tablespoon equals 20 ml; 1 cup equals 250 ml. | All vegetables are medium size and peeled, unless specified. | All eggs are 55-60 g, unless specified.

Discover more delicious traditional dishes on your own German adventure! Find your perfect Slow Tour in Germany
For foodies, choose from our exciting range of Food Tours in Europe
Recipe credit to Nanna Dorn-Zachertz, SBS food.