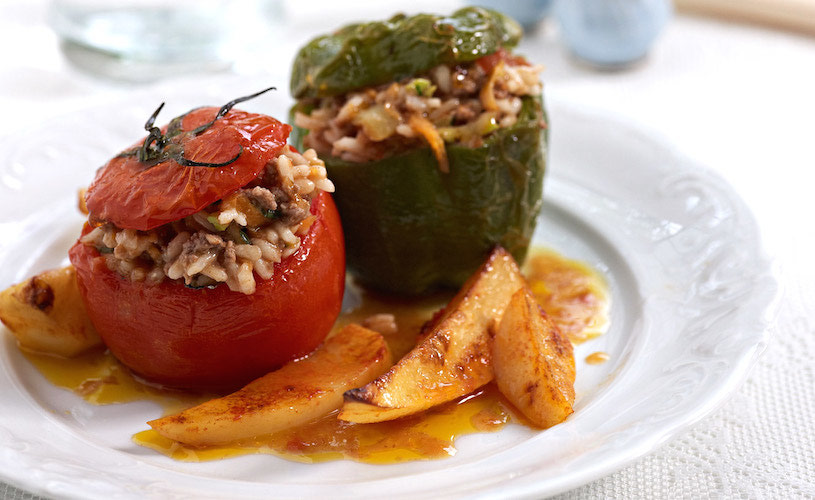 'Gemista' - Stuffed tomatoes and peppers
Gemista (which in Greek means "filled with") is a Greek recipe for stuffed vegetables with rice and mince, then baked until soft and nicely browned. This juicy and tasty meal bursting with fresh and vibrant colours and flavours is a great meal all year round. Almost every Greek household has its own version and here is a delicious family recipe that is easy to try.
Ingredients:
4 big organic tomatoes
4 big organic green peppers
1 cup rice
1 cup Eumelia Extra Virgin Olive Oil + 6tbs for sauteing
2 big onion finely chopped
2 potatoes, cut into wedges
400 gr tomato juice
2 tbs chopped parsley
2 tbs chopped peppermint
200 gr beef mince
Sea salt (hand picked from Mani region)
Method:
Preparation:
Wash all the vegetables. Slice off the top of the tomatoes, using a spoon remove the flesh of the tomatoes and keep it in a bowl. (The flesh of the tomatoes will be the base for the tomato sauce for the Gemista.) Prepare the sauce for the Gemista. In a blender add the flesh of the tomatoes, 5-6 tbsps olive oil, the tomato puree, sugar, season with salt and pepper and mix to combine. Set aside.
Filling:
Prepare the filling for the Gemista. In a saucepan add some olive oil and sauté the onions, until translucent. Add the meat and continue sautéing. Add the rice and continue sautéing, until all the liquids are absorbed. Add half of the tomato sauce and keep cooking for another 5 minutes. Remove the pan from the stove and stir in the fresh herbs.
Assembling:
Assemble the Gemista. Spoon the filling inside the empty vegetables and place the potatoes, cut into pieces, in between the vegetables. Season with salt and pepper and pour the rest of the tomato sauce over the vegetables and in the baking tray. Cover the vegetables with their lids and add one cup of Extra Virgin Olive
Cooking:
Cover the Gemista with aluminium foil and bake in preheated oven at 180 degrees for 60-75 minutes. Halfway through cooking time remove the aluminium foil and bake, until nicely coloured.
One of the most popular dishes in Greece, came from Asia Minor. The original recipe includes pine nuts and raisins while the Greek traditional filling often includes minced meat with rice.
Book your holiday on an Organic Greek farm in the Peloppenese region: your choice of a Food Tour, Yoga and Wellness, a Greek Easter or Christmas, or even learn the Greek language.
Slow Tours offers a range of Tours in Greece where you will find Organic Food on an Organic Farm