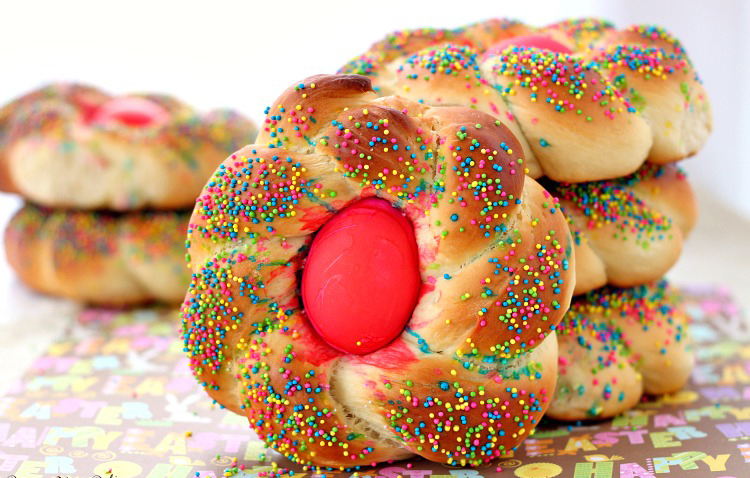 Sicily and Abruzzo bread for Easter
The origins of this Italian Easter bread recipe are uncertain. Different regions - notably Sicily and Abruzzo - will claim they thought of it first. What is certain is that it's now made at Easter in all parts of Italy, with variations on the basic recipe according to regional and family customs.
Traditionally it was made in the shape of a horse for boys, a doll for girls and a wreath for adults. These days it's usually made in a plait (braid) and either left long, or pulled into a circle.
Try it for yourself!
Ingredients
Serves 10
2 1/2 cups (310g) plain flour, divided
50g caster sugar
1 teaspoon salt
1 (7g) sachet acrtive dried yeast
2/3 cup (160ml) milk
2 tablespoons butter
2 eggs
5 whole eggs (dyed if desired)
2 tablespoons of butter, melted
Directions

Preparation:45min › Cook:55min › Extra time:2hours rising › Ready in:3hours40min
In a large bowl, combine 1 cup flour, sugar, salt and yeast, stir well. Combine milk and butter in a small saucepan then heat until milk is warm and butter is softened but not melted.
Gradually add the milk and butter to the flour mixture while stirring constantly. Add two eggs and 1/2 cup flour then beat well. Add the remaining flour, 1/2 cup at a time, stirring well after each addition.
When the dough has pulled together, turn it out onto a lightly floured surface and knead until smooth and elastic, about 8 minutes.
Lightly oil a large bowl, place the dough in the bowl and turn to coat with oil. Cover with a damp cloth and let rise in a warm place until doubled in volume, about 1 hour.
Punch the dough down in the bowl and then turn it out onto a lightly floured surface. Divide the dough into two equal size rounds; cover and let rest for 10 minutes. Roll each round into a long roll about 90cm long and 4 - 5cm thick.
Plait the two pieces together loosely (leaving room for the whole eggs) and form into a ring. Moisten the ends and seal them together, then slide the eggs between the dough.
Preheat oven to 180 degrees C.
Place the loaf on a greased baking tray and cover loosely with a damp towel. Place loaf in a warm place and let rise until doubled in bulk, about 45 minutes. Brush risen loaf with melted butter.
Bake in preheated oven for 50 to 55 minutes, or until golden.
Enjoy more Italian treats on one of our Tours in Italy