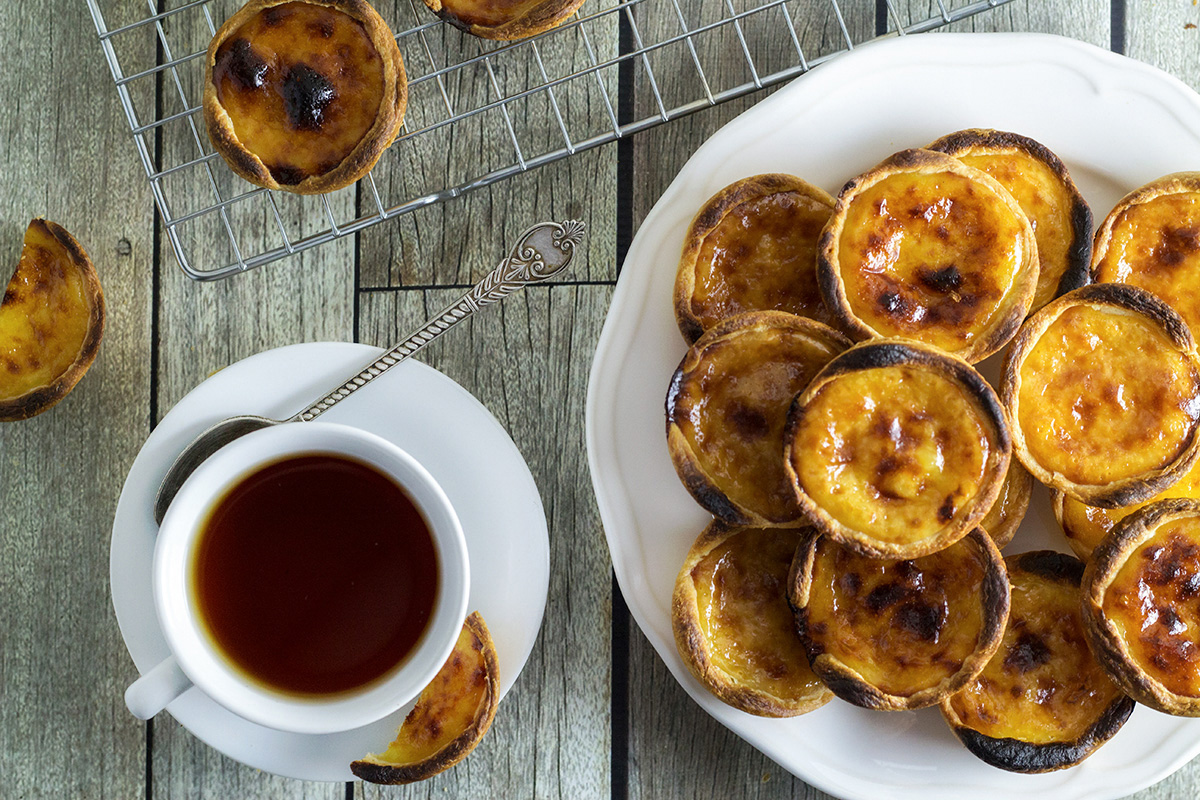 Heironymite Monastery
At the beginning of the Nineteenth Century, in Belém, next to Mosteiro dos Jerónimos (the Heironymite Monastery) there was a sugar cane refinery attached to a small general store. As a result of the 1820 liberal revolution, all convents and monasteries in Portugal were shut down in 1834, the clergy and labourers expelled.
Pasteis de Belem
In an attempt at survival, someone from the monastery offered sweet pastries for sale in the shop; pastries that rapidly became known as 'Pastéis de Belém'.
At that period the area of Belém was considered far from the city of Lisbon and mainly accessed by steam-boats. At the same time, the grandeur of the monastery and the Torre de Belém (the Belém Tower) attracted visitors who soon grew used to savouring the delicious pastries originated in the monastery.
In 1837, the baking of the "Pastéis de Belém"began in the buildings attached to the refinery, following the ancient 'secret recipe` from the monastery. Passed on and known exclusively to the master confectioners who hand-crafted the pastries in the 'secret room', this recipe remained unchanged to the present day.
Make the Portuguese Custard Tarts on Your Own!
Ingredients
Here are the ingredients that you will need to make Pastel de Belém:
1 whole egg
2 egg yolks
115g golden caster sugar
2 tbsp. corn flour
400ml full fat milk
2 tsp vanilla extract
1 sheet ready rolled puff pastry
For garnishing:
Cinnamon powder
Icing sugar
Steps:
• Preheat the oven to 200C, and lightly grease a muffin try.
• Add egg, yolks, sugar, corn flour and milk in a bowl, and mix until it is smooth. Place the mixture on medium heat and stir constantly until it has reached a thick consistency. Remove from stove and add vanilla extract. Let it cool.
• Cut the pastry sheet into two and place the pieces on top of each other. Roll the sheets into a log and cut into 10 to 12 round discs. Place the discs into the muffin tray.
• Pour in the custard atop each pastry disc and bake for 25 minutes. Sprinkle cinnamon powder and icing sugar.
Enjoy all the flavours that a tour in Portugal offers on a Slow Tour
History credit; pasteisdebelem.pt. Recipe credit; followthecamino.com