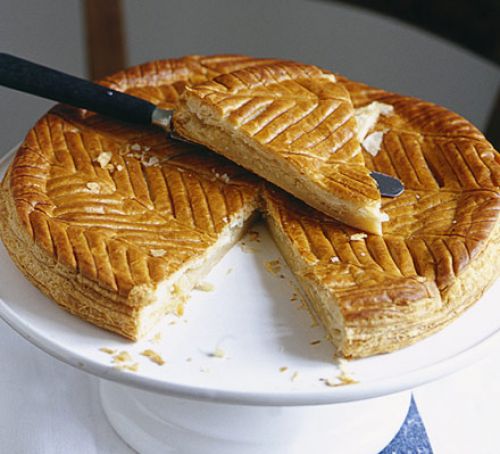 La 'Galette des Rois'
The Epiphany takes place on January 6th and celebrates the date of the visit of the Magi to the infant Jesus. On this day the three Wise Men arrived from the East, guided by the Star of Bethlehem, bearing gifts for the divine infant. In France it is on 6 January that the Wise Men figures in the nativity. You will find this traditional 'galette des rois' (cake of the kings) in all French patisseries the first week of January, and it is on 6th January that the Epiphany celebration is held, and the cake served.
It is a puff pastry pie filled with frangipane, tradionally eaten on Twelfth Night.
Ingredients:
400g ready-made puff pastry
2 rounded tbsp apricot jam
100 g softened butter
100 g caster sugar
1 lightly beaten egg
100 g ground almond meal
2 tbsp cognac or dark rum
Method:
Heat the oven to 200C/fanC180/gas 6.
Divide the ready-made puff pastry in half, roll out each piece and cut into a 25cm round. Put one round on a baking sheet and spread with the apricot jam to within 2cm of the edges.
Beat together the softened butter and caster sugar until light and fluffy, then beat in the egg. Stir in the ground almonds and cognac or dark rum.
Spoon the mixture over the jam, spreading it evenly. Brush the edges of the pastry with water, then cover with the second piece, pressing the edges to seal. Mark the top of the pastry from the centre to the edges like the spokes of a wheel or in a zig zag pattern, then brush with beaten egg.
Bake for 25-30 mins until crisp and golden. Serve warm or cold.
This delicious recipe comes from Mary Cadogan's blog

If you are interested in European food and cooking school, check out these Food Tours Europe
or for everything French have a look at Tours in France