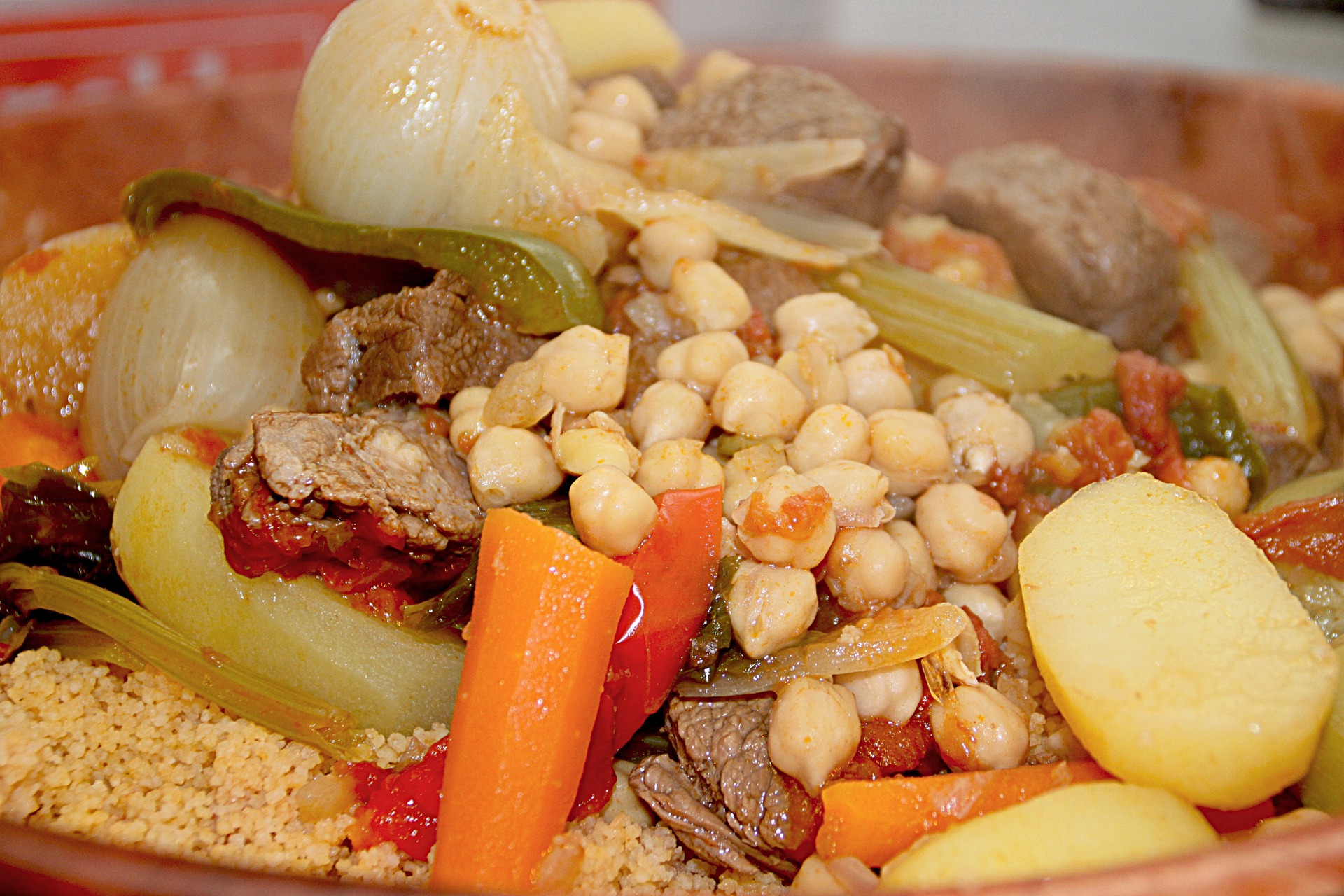 A dish from North Africa
Ingredients
SERVINGS: 8
8 lamb chops or 8 skinless chicken pieces, on bone but skin & fat free if possible
1 large onion
3 garlic cloves
2 medium carrots
2 medium zucchinis
2 large potatoes
1⁄4 turnip
1 parsnip
2-3 stalks celery
1 cup chickpeas, drained
1 teaspoon paprika
1 teaspoon coriander
½ teaspoon ginger
1 pinch of saffron
salt & pepper
1 pinch dried mint
1⁄2 tablespoon sunflower oil
1 cup of tinned plum tomato
1 1⁄2 litres water
1 large green chilli pepper (the Algerian ones) (optional)
500g medium couscous
1tablespoon ghee
1 1⁄2 tablespoons margarine
1 cup water
olive oil
Directions
1. Finely chop the onion and mince the garlic and place it in a large heavy bottomed pan with the meat or chicken, spices and a little olive oil. Fry gently to seal the meat/chicken. You can use a pressure cooker or large cast iron casserole dish for this.
2. Chop the carrot, parsnip and zucchini into 6 pieces. Cut the potato into 1/4's and roughly chop the turnip. Chop celery into roughly same size as carrot. (Peel the carrots, potato, parsnip and turnip).
3. Add the vegetables to the meat along with 1L of water and turn up heat so they begin simmering. If using the chilli add it now, along with salt and pepper. If cooking in a regular pan then cook for 40 minutes like this. If using the pressure cooker then 20 minutes will be enough.
4. Add the tomatoes, chick peas and dried mint and 1/2L more water or enough to create a 'stew' consistency.
5. Return to heat and cook in pan for further 30 minutes and if using pressure cooker then cook on med to high for a further 25 minutes.
6. Take a 500g pack of medium couscous and pour into the biggest bowl you have. Pick out any 'bits' and sprinkle water - about 50mls and a tsp of salt over the couscous and using your hand rub 1/2 tsp of oil through the couscous to stop it sticking. Fill a steamer half full with the couscous (as it swells).
7. When you 1st notice steam coming from the couscous, count 10 minutes. After that remove from the steamer, place in large bowl and use your hands to 'open' the couscous (rub it together between hands to remove clumps). This is very hot and you need to keep wetting you hand with cold water and sprinkling a little on the couscous.
8. Return to steamer when thoroughly opened. Repeat process of steaming and opening twice more.
9. Finally remove from steamer and place back in large bowl. Open for final time and rub a tbsp of ghee or smen into the couscous along with 2tsp of butter or margarine. Add salt to taste.
10. Serve the couscous in the large bowl with sauce on top as traditional style or in tagine etc. Usually we place the meat/chicken in place - 1 for each guest and decorate the couscous with the veg before ladling some of the sauce over the top.
If you used the chilli, put it on a plate and let people help themselves to it!
Embrace the cuisine of European countries with a Food Tour of Europe
Recipe by Um Safia of Food.com