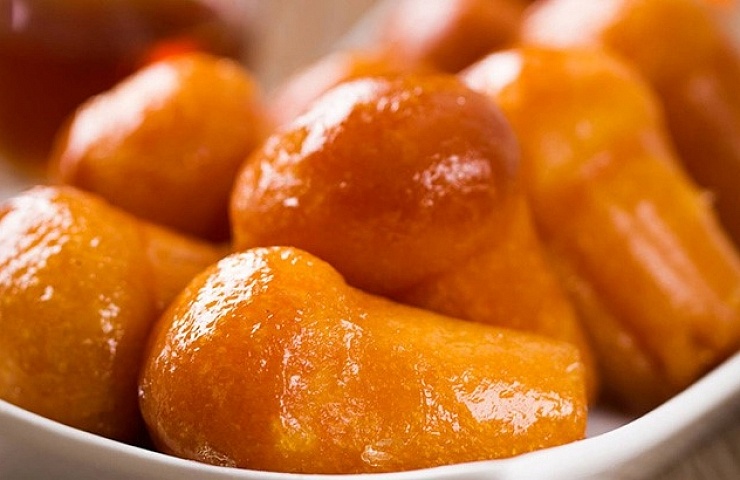 Traditional Rum Baba
A beloved boozy treat from Naples, babà al rum are small yeasted brioche-like cakes swimming in a rum-spiked citrus syrup.
We've sourced the best and most authentic recipe so you can give it a try and impress your friends and family.
Ingredients
serves 6
For the pastry
Plain flour : 250 g
Fine salt : 5 g
Caster sugar : 15 g
Water : 50 ml
Baker's yeast : 25 g
Whole egg(s) : 175 g
Unsalted butter : 75 g
For the cream
Double cream : 250 ml
Icing sugar : 5 g
For the syrup
Water : 1000 ml
Caster sugar : 500 g
Vanilla pod(s) : 1 whole
Star anise : 1 whole
Cinnamon stick(s) : 1 whole
Unwaxed orange(s) : 1 whole
Dark rum : 30 ml
Method
Preheat the oven to 200°C.
Dissolve the 5g salt in a little bit of water. Place in the bowl of a food processor and add the 15g sugar. In a separate bowl, mix the 50ml water with the yeast and mix well. Add the yeast to the salt/sugar mixture then blend. Attach the dough hook to your food processor and then add the flour to the bowl and knead gently. Add the eggs, a third at a time and mix in the food processor for 7 minutes.
Soften the butter to room temperature then add to the mixture and incorporate gently. Then increase the speed until you have a very smooth mixture. Pour the mixture in to your baba moulds until they are 3/4 full and then leave to prove at room temperature. The dough should rise just above the moulds. Transfer to the oven and cook for 20 to 30 minutes until the babas are golden all over.
Whilst the babas are in the oven, prepare the syrup: Zest the orange. Place the 500g sugar in a saucepan with 1 litre of water, the orange zest and the spices. Bring to the boil to dissolve the sugar and allow the spices to infuse. Add the rum to the pan and stir. Remove the babas from the moulds and immerse in the syrup, allow them to soak up plenty of the syrup. Place the babas on a draining rack while preparing the chantilly cream.
Place the cream in a bowl and whisk until thick then add the icing sugar. Mix vigorously to thicken the cream. Cut the rum babas in half widthways and garnish with the chantilly cream. Serve with fruits flambéed in rum.
If this recipe has whet your appetite for France then one of our Tours in France would be right up your alley.