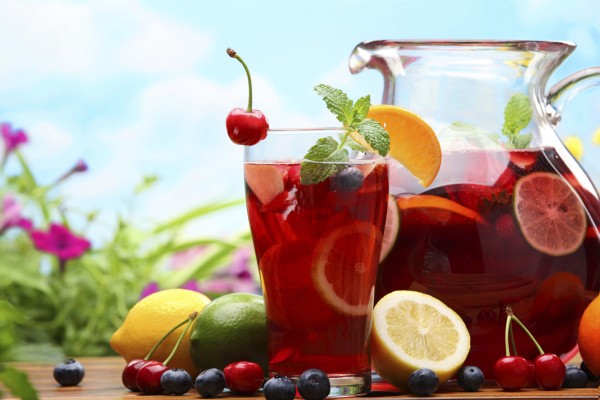 Recipe for a Spanish Sangria
Are you looking for the perfect recipe to bring the taste of Spain home with you? Then try this Traditional Spanish Sangria which is quick and easy to make, and delicious to drink on a hot summer day!
Author: Lauren Aloise of Spanish Sabores.
Serves: 6
Ingredients
1.5 bottles of young table wine (don't waste top quality wine on sangria but don't use something that's sure to give you a hangover either!)
2 oranges
1 lemon
1 cinnamon stick
3 tablespoons sugar (optional)
1 green apple (optional)
2 peaches or apricots (optional)
Carbonated beverage (lemon soda, orange soda, or soda water) (optional)
Instructions
If using the sugar (which will make a sweeter sangria than if you omit), dissolve the sugar in two tablespoons of water over a low flame to create a clear simple syrup. Let cool.
Wash the oranges and cut off thick pieces of rind before juicing the oranges.
Juice the oranges.
Wash the lemon and cut off pieces of rind before juicing the lemon.
Juice the lemon.
In a large pitcher or bowl, stir together the wine, simple syrup, orange juice and lemon juice and add in the chunks of lemon and orange rind. If making a truly traditional Spanish sangria, simply add the cinnamon stick and let sit at least two hours (preferably overnight) before serving over ice. This allows the sangria to take on the aromas of the fruit rind and cinnamon stick.
If you want to make a slightly more modern version (still not anything too crazy!) add in chopped up chunks of green apple and peach. For the modern version you can also top off with a carbonated beverage (lemon soda, orange soda, or soda water) right before serving for some bubbles.
If you enjoy all things Spanish, check out our range of fabulous tours in Spain