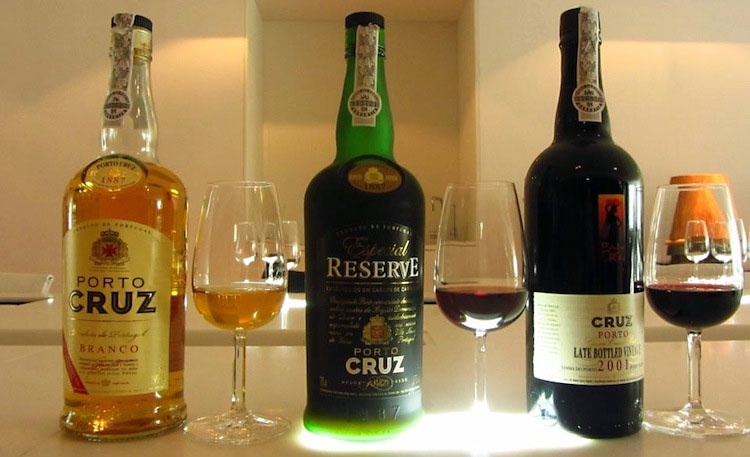 Portuguese wines
Douro
For over 2000 years, Port wine, a wine fortified with brandy, has been exclusively produced in the Douro region, one of the 14 wine regions in Portugal. Douro is the oldest demarcated and regulated wine region in the world, declared in 1756 and made a World Heritage by UNESCO in 2001.
The Douro valley runs along the Douro River, from Spain to the port city of Oporto, on the Atlantic coast. Amazing steep terraces for grape growing have been carved into the hills along the banks of the Douro, the 'soil' being mostly 'schist' - layers and layers of flinty rocks. With the hot summers it is surprising that anything grows there!
Portugal also grows wine varietals for white, red, rose, sparkling wines and Muscat. Many of the Portuguese grape varietals are still unknown to the world. Among hundreds of native grapes, the less unknown ones are Tinta Barroca, Rabigato, Touriga Nacional, Touriga Franca, Tinta Roriz, Baga, Alvarinho, and Maria Gomes. Many of these descend from pre-historic vine plants which have endured thousands of years of climate changes.
Vinho Verde
A recent developing interest has been in the white wine region Vinho Verde, often mistakenly thought to be a grape varietal. With its 34,000 hectares well situated along a coastal area rich in water resources, mild temperatures and abundant rains, the fertile soils and high acidity are excellent for the production of white wines. This white is most likely the one wine, besides port, that you may have heard about. The wine has a slight pale yellow green tint - hence its name Vinho Verde (green wine). It is a blended wine which is light, crisp and refreshing, with up to 47 varietals allowed, the most common being Arinto (Pederna), Loureiro, Alvarinho and Trajadura. It can often be a little 'spritzig'.
Vinho Verde sub-regions
Natural issues, micro-climates, wine types, vine varieties and ways to cultivate them, led to the division of the Demarcated Region of the Green Wine into nine sub-regions: Amarante, Ave, Baião, Basto, Cávado, Lima, Monção e Melgaço, Paiva and Sousa.
The dominant white varieties are Alvarinho, Arinto (Pedernã), Azal, Loureiro, Avesso and Trajadura, while in the red varieties the dominant are Borraçal, Espadeiro, Brancelho e Vinhão.
And what to eat with your wine...?
Portugal is a seafaring nation with a well-developed fishing industry and this is reflected in the amount of fish and seafood eaten. The country has Europe's highest fish consumption per capita and is among the top four in the world for this indicator. No wonder you can be sure of some great seafood in its restaurants. Portuguese cuisine is typically hearty, relying on fresh ingredients. From the mountains in the north to the rolling hills and plains of the south, Portugal offers a wide range of culinary delights.
Famous dishes which you should try include: bacalhau, (codfish), alheira de mirandela (sausage), arroz de tamboril (monkfish), caldeirada de engueas (eel stew), cataplana de marisco (seafood stew), francesinha (a favourite of Porto resembling a hamburger!) - but you can rely on many restaurants to suggest local dishes with a huge selection of fresh seafood available, and of course, the great local wines.
Find out more about wines on one of our selected Wine Tours in Europe
and check out some of these tours in Portugal