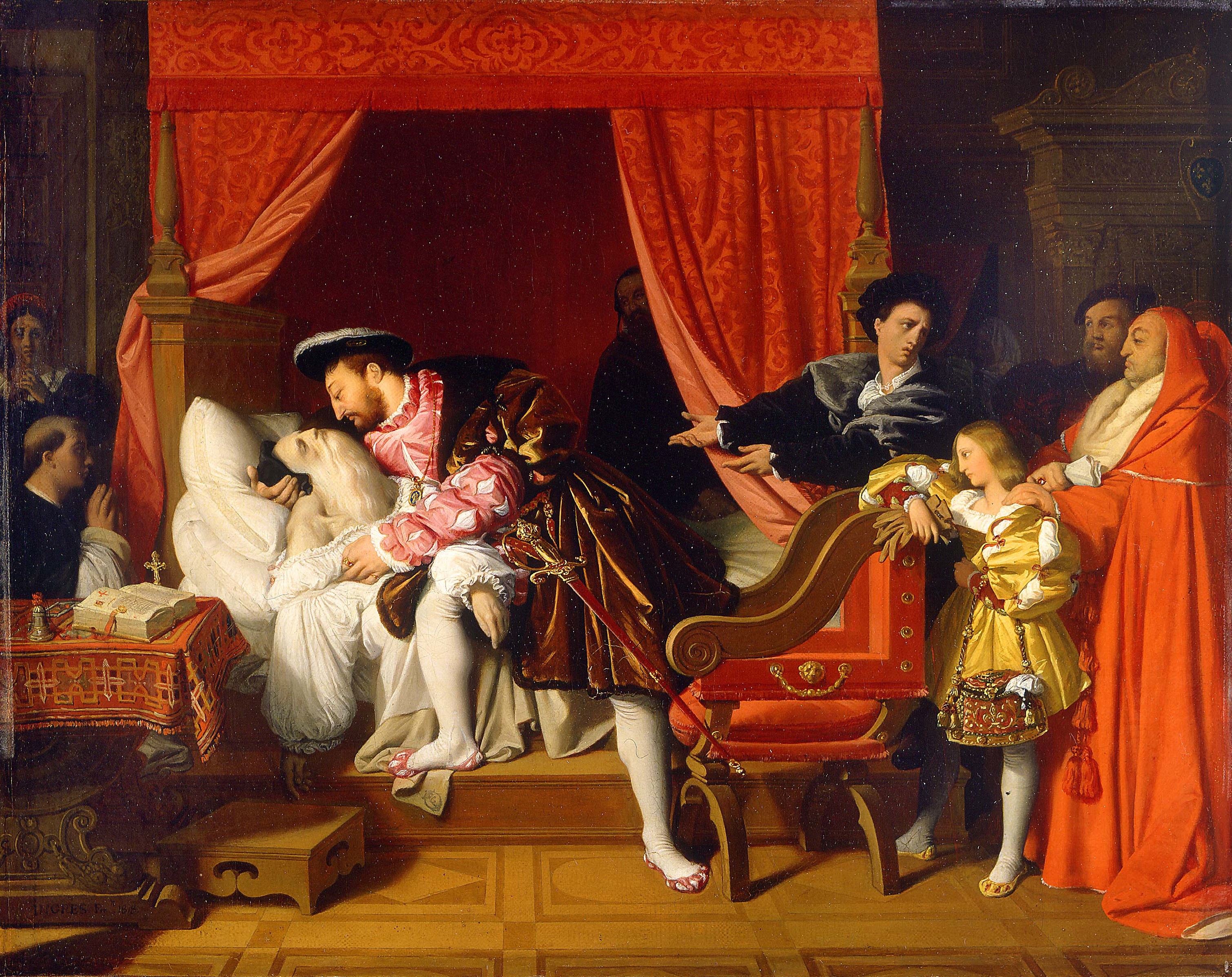 Leonardo da Vinci's Legacy
The Death of Leonardo da Vinci is an 1818 painting by the French artist Jean Auguste Dominique Ingres, showing the painter Leonardo da Vinci dying, with Francis I of France holding his head. It was commissioned by Pierre Louis Jean Casimir de Blacas, the French ambassador in Rome, and now hangs in the Petit Palais in Paris.
Who was Leonardo da Vinci?
Leonardo da Vinci, was a Renaissance man, a painter, sculptor, architect, inventor, military engineer and draftsman. With a curious mind and keen intellect, da Vinci studied the laws of science and nature, which greatly informed his work. His ideas and body of work have influenced countless artists and made da Vinci a leading light of the Italian Renaissance.
Leonardo da Vinci's final years.
Milan
In 1506 da Vinci returned to Milan to work for the very French rulers who had overtaken the city seven years earlier and forced him to flee. Among the students who joined his studio was young Milanese aristocrat Francesco Melzi, who would become da Vinci's closest companion for the rest of his life. He did little painting during his second stint in Milan, however, and most of his time was instead dedicated to scientific studies.
Rome
Amid political strife and the temporary expulsion of the French from Milan, da Vinci left the city and moved to Rome in 1513 along with Salai, Melzi and two studio assistants. Giuliano de' Medici, brother of newly installed Pope Leo X and son of his former patron, gave da Vinci a monthly stipend along with a suite of rooms at his residence inside the Vatican. His new patron, however, also gave da Vinci little work. Lacking large commissions, he devoted most of his time in Rome to mathematical studies and scientific exploration.
Amboise
After being present at a 1515 meeting between France's King Francis I and Pope Leo X in Bologna, the new French monarch offered da Vinci the title "Premier Painter, Engineer and Architect to the King." Along with Melzi, da Vinci departed for France, never to return. He lived in the Chateau de Cloux (now Clos Luce) near the king's summer palace along the Loire River in Amboise. As in Rome, da Vinci did little painting during his time in France. One of his last commissioned works was a mechanical lion that could walk and open its chest to reveal a bouquet of lilies.
Leonardo da Vinci's death.
Leonardo da Vinci died on May 2, 1519, at the age of 67. He continued work on his scientific studies until his death; his assistant, Melzi, became the principal heir and executor of his estate. The "Mona Lisa" was bequeathed to Salai.
For centuries after his death, thousands of pages from his private journals with notes, drawings, observations and scientific theories have surfaced and provided a fuller measure of a true "Renaissance man."
Explore Leonardo da Vinci's final home, the stunning château du Clos Lucé on our Loire Valley 8 day Small Group Tour or visit his famous painting 'The Last Supper' on our 8-day Italian Lakes Tour
Information sourced from Biography.com