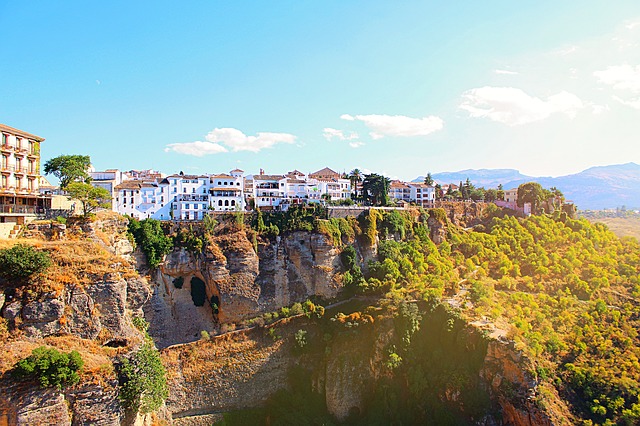 This has been a fantastic experience
"Homestay and activities have been superb, and it was great value for money. My classes were for 4 hours per day rather than for three, and since my 2 fellow students of the first week had a 4 hour class on the Friday I was invited to join that too. In the second week I was offered 2 extra classes of an hour and a half each. Activities ran even with just 1 participant: my flamenco class (!) and leatherwork class consisted of just me and my accompanying intern. For the gardening, it was just me and the gardener.
Language program
The amount of material presented in classes has been a bit overwhelming, and I struggled because my listening skills were initially poor and the accent here is said to be almost the most difficult there is. I did improve a little, but need a lot more practice! All the time spent on activities did eat into time for consolidating class material, but I wouldn't cut back because they were useful Spanish episodes too.
Ronda and events
Obviously you know how spectacular Ronda is, but it throws in extras. The first night my hostess and I stumbled on a religious procession, with traditional clothes and a float pulled by 2 oxen. Last weekend there was a big festival, organised by rotary, that included precision flying and aerobatics by 5 helicopters over the valley in front of the Alameda park. For the last week there has been an international guitar festival in the ancient chapel of the former convent near the bridge. I've been to 2 matinees, one classical, one flamenco - for the latter, 6 beautiful guitars were played, and all the makers were in the audience, as was the man who appears to have a monopoly on supplying the strings..
Homestay
I don't think I would recommend homestay for an absolute beginner. It could be too difficult if the hosts don't speak adequate English. My hostess and I have had to use online translation a lot - and have had a lot of laughs over some of the results. She is learning English and I have some Spanish, and even with the help of Google and Deepl we have had some slight misunderstandings. I ended up not having an ensuite because my allocated host had health problems just before I left home and an alternative had to be found in a hurry. I don't think they have an unlimited supply of homestay options, and luckily this has turned out really well."
Christine - June 2019
Learn Spanish yourself and book the Spanish Learning 15 day experience online alternatively you can book one of our range of tours in Europe.