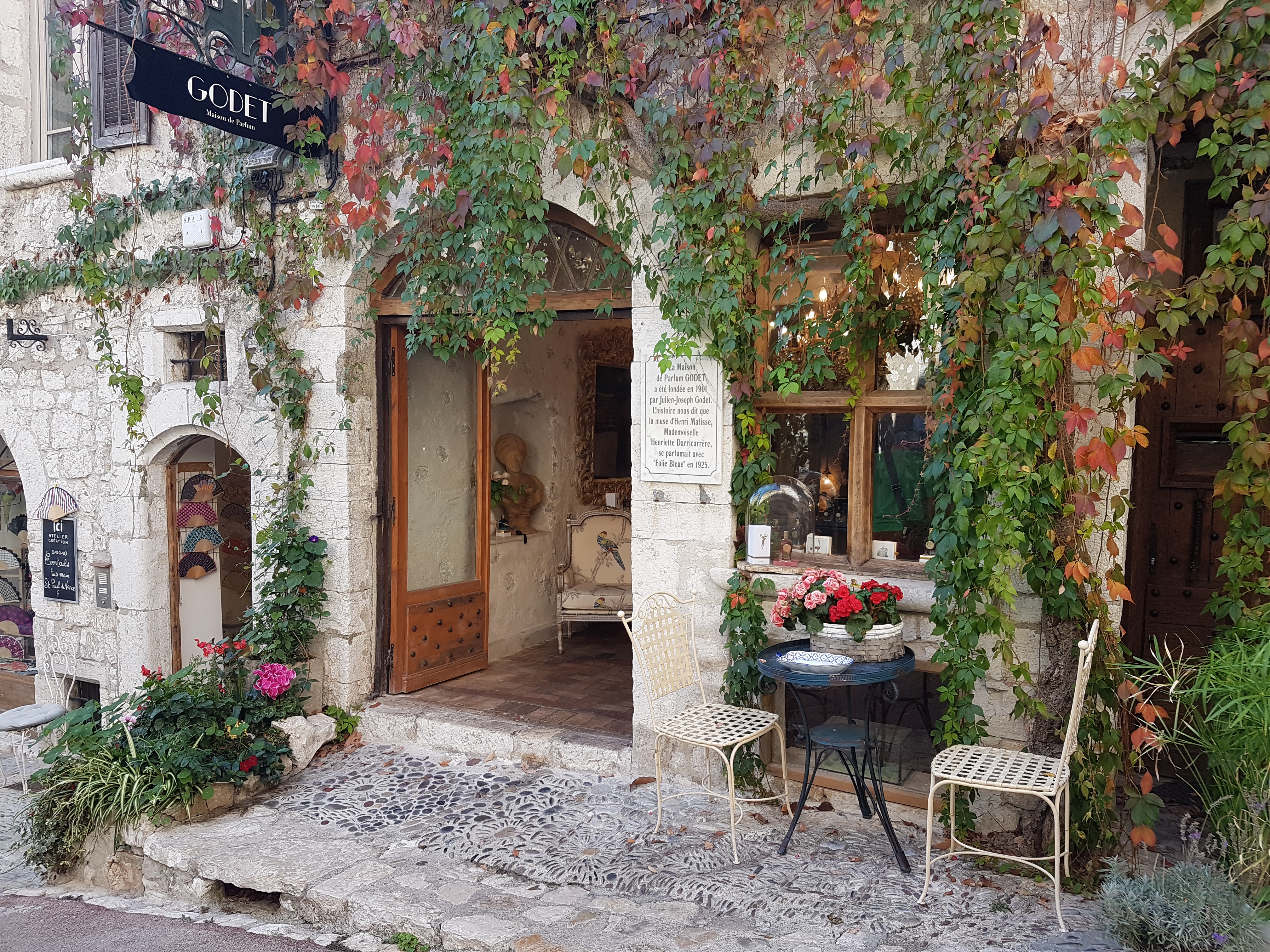 The photo here is of the Maison de Godet, a famous French perfumerie. It was taken on a beautiful autumn day when I was staying with a friend who lives in Cagnes-sur-mer on the French Riviera. We spent a few days together revisiting some of the places close to where we first got to know each other when we attended an Executive MBA course in Nice.
Gorgeous autumn weather, art, history, beautiful gardens and plenty of street attractions are what you find in this delightful corner of France.
Wandering through the streets of St Paul de Vence offers so many photo opportunities. As we walked along the top of the village, with stunning views all around us, a small street grabbed my attention, and here in this famous village was one of the best photo shots, with just the right light to capture this beautifully presented shop, owned, as I discovered, by Sonia Godet. Full of beautiful antique furniture, exquisite decor, chandeliers and an original tiled floor, the aesthetic beauty and the fragrance of perfumes pull you inside.
Sonia, a French-trained 'nez' (known as a 'nose) travelled the world, and returned to her beloved France to draw on the experience of her grandfather in the creation of beautiful perfumes in unique bottles.
Julien Joseph Godet opened his perfumerie in Paris in 1901. The painter Henri Matisse visited Godet's shop accompanied by his muse, Henriette Darricarrère, a dancer. This young woman fell in love with Folie Bleue. Julien-Joseph Godet drew inspiration from the violets cultivated in the French village of Tourrettes-sur-Loup, which he beautifully combined with oakwood and cardamom.
With such an interesting story behind the pretty facade, we decided that this photo was going to be the one to use for our online shop.